Police investigating string of burglaries in west Little Rock | News
LITTLE ROCK, Ark. (KTHV) – Police are investigating a string of burglaries in west Little Rock.
On Wednesday morning, police received nine reports of either cars or garages being broken into. Police believe the burglaries happened between the hours of 3 a.m. and 6 a.m. in three gated communities along Chenal Valley.
One homeowner whose truck was stolen was lucky enough to get it back.
"It's a big blessing, considering I had the truck for a week and a half and hadn't even registered it yet," said James Mikels of west Little Rock.
Hours after James Mikels discovered his brand new truck stolen from his driveway on Deauville Circle Wednesday morning, it was found.
"I called OnStar at 7:15 a.m., and by 8:30 a.m., they had my car shut down and located," said Mikels.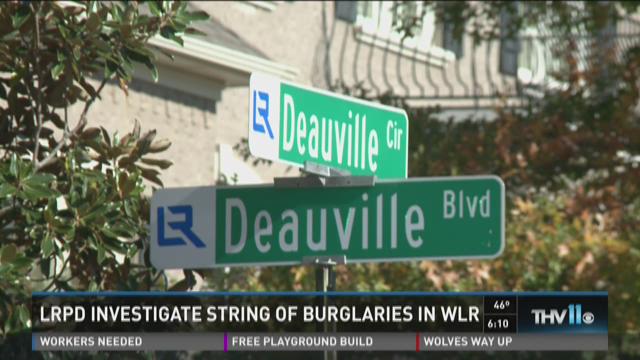 The truck was returned with some damage, but Mikels soon learned he wasn't the only victim.
"I kept seeing police cars go by, and then when the officer finally got to my house, it was because all the other officers were dispatched to all the other houses in the neighborhood," said Mikels.
According to Little Rock Police, nine cars and garages in the area of Deauville, Germay and Chenal Circle were burglarized that same morning.
Surveillance footage from a home on Germay Court caught at least one of the thieves in the act.
"When you have all the incidents occur in that close of an area in one night, it's generally going to be the same person or same group of people," said Lt. Steven McClanahan with the Little Rock Police Department.
Many of the victims reported items stolen from unlocked vehicles, including garage door openers used to gain access inside the homes.
"If you leave your garage door opener, or have a way for them to get in your garage door, they can open your door and take anything of value," said McClanahan.
As of Thursday evening, police had not made any arrests in the string of burglaries. They're hoping to use the surveillance footage from homes in the area to track down the individual or individuals involved.